Pixel and VoxelArt Design
Whimsy Games team has vast expertise in crafting pixeland voxel art games of diverse complexities. If you'reinterested in creating such a game, please don't hesitateto reach out, and we can discuss it further.
Get in Touch
portfolio
75

professionals

creating top-notch games

7

years

in the game industry

15

games

released

99

clients

trust our expertise
About Services
Pixel and voxel art games remain popular among well-known game studios as well as tiny independent teams. This visual style evokes nostalgia, gives a game a distinct "digitized" aesthetic, and is an ideal choice for a variety of genres. Creating pixel and voxel art designs for your games will be quick and enjoyable if you have a good tech stack and a professional crew. Whimsy Games can assist you in creating a pixel and voxel character or a slew of them.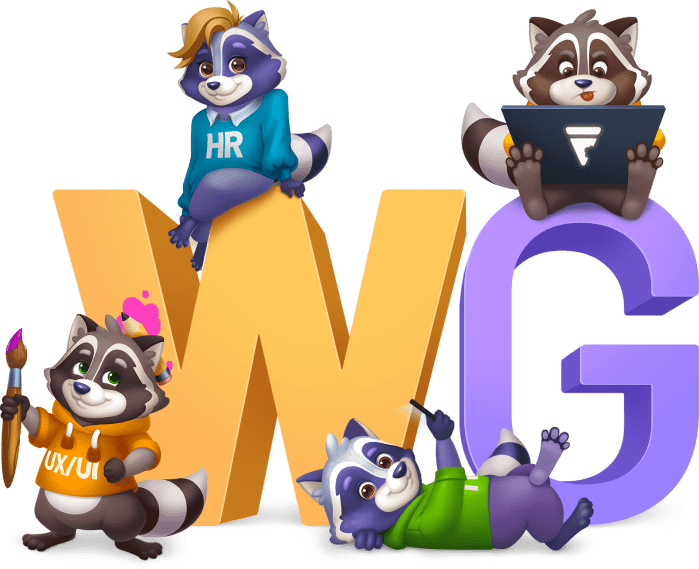 We Offer:

Concept art creation
We can assist you in creating concept drawings for your characters from the ground up. We'll provide the necessary resources and the best ideas.

Customizable character design
We will assist you in creating pixel and voxel art designs that are tailored to your tastes and requirements. You may be confident that you will receive high-quality, one-of-a-kind artwork for your next release.

Full-cycle production
We offer full-stack production services and can handle time-sensitive projects. Our design teams are prepared to begin immediately in order to fulfill your tight deadlines.

Game visualization
We will assist you in effortlessly and swiftly incorporating character imagery into your game. We will also deal with any problems that may arise during the procedure.
Features
Custom tech stacks

We don't have a uniform tech stack for creating pixel and voxel art designs. According to our expertise, each creative style, genre, and environment necessitates a unique mix of tools and software to get the greatest results. As a result, we'll select the technologies most suited to the job.

Experienced teams

We recruit generally medium- and senior-level individuals with years of expertise in the appropriate sector to provide high-quality services. All of our artists have mostly worked on pixel and voxel art projects and can select the best methods and techniques for each job.

Original ideas

Our staff is always brainstorming new concepts that not only match your preferences but also correspond with industry trends, giving your game a higher chance of success.

Business-driven experts

Our professionals understand the significance of developing high-quality solutions that meet the demands of businesses. We want our goods to stand out in the market, so before we begin every project, we do market and competition research.
Genres We Create
Arcade games
Fighter and shooter games
Runner games
NFT games
How We Work
Introductory meeting

We will begin with an introductory call to discuss the type of pixel and voxel art design you like for the game. To optimize the process, we will agree on the number of team members, timelines, and appropriate frameworks.

Project preparation

Before we start, our team will do a market study to identify the most recent trends in your industry. We will also select the most appropriate technology stack to ensure that the final design is exactly what you desire.

Sketching

We will begin drawing the initial designs after we have obtained appropriate references. Our professionals will produce the initial drafts and send them to you for comments.

Feedback and improvements

We will get your feedback on the areas that need to be improved or adjusted. As soon as we finish the final version, we will double-check with you to ensure that everything is correct.
Why US
01

With our assistance, you can bring your vision to life and make your dream a reality.

02

We aim to showcase the uniqueness of your game by generating bespoke designs based on your preferences and essential needs.

03

We emphasize open communication and keep you up-to-date on the status of each project.

04

We provide extensive reports and comments to let you know which major issues or improvements we were able to address.

05

We want our collaboration to be as easy as possible, so you may always change the team size and composition, deadlines, or project goals.
Frequently Asked Questions
Pixel art is a creative form of digital art that uses small pixels to create a larger image. This visual style is popular in a variety of gaming genres, including puzzles, action games, and fighters. Pixel art may be used to create both 2D and 3D games with varied levels of depth and detail to achieve the desired ambiance.
We must first comprehend what a pixel is in order to comprehend what voxel art is. A pixel is the tiniest visible component of a picture in 2D graphics. When you fully zoom in on an image, you will see a grid made up of several tiny squares. We refer to each of these squares, which are all shown in the same blocked color, as a pixel. The 3D equivalent of a pixel is a voxel.
Pixel art based games are typically more lively, entertaining, and occasionally a little retro. It is nonetheless an excellent choice for futuristic or steampunk games. Essentially, pixel art is a very versatile style that can work with almost any genre or game environment.
Creating pixel art isn't as simple as it appears at first glance. Even if you're working on a 2D game, you'll need to master a variety of ways to add depth and texture to your characters and the in-game environment if you want to make a high-quality pixel art game. To generate great designs and make your game a respectable contender on the market, you'll need to learn how to work with particular tools and use visual editors.
One of the main reasons pixel art is still so popular is because of nostalgia for the 1980s and 1990s. Another reason for pixel art games' success is their unique appearance. Although such games may appear simple, several well-known gaming studios are able to add complex images to them. Without the use of complicated tools or software, pixel painters may develop a distinct style for the game's scene and characters, as well as add other effects such as tints or lighting.