NFT Launchpad Development Services
Jumping into the Web 3 world or not raises any doubts. Yet, how to help artists, creators, and businesses make this process smooth, reach out to the right audience, and monetize this effort? Our Whimsy Games team is on the crest of the wave in delivering NFT Launchpad Development. We create a place for fundraising, kicking off, and marketing projects in the Metaverse in an easy-peasy way, so the users can intuitively release, presale, and mint their products.
Discuss a project
portfolio
75

professionals

creating top-notch games

7

years

in the game industry

15

games

released

99

clients

trust our expertise
About Services
Whimsy Games is an industry-leading service provider in game development and a pioneer in developing an NFT gaming launchpad. We believe the future belongs to blockchain and NFT technologies. That's why we focus on these approaches and search for the best mechanics to integrate them into your products. Our company has a team of specialists creating market steering products with robust software and eye-catching visuals. We implement the latest trends to make the platform attractive for different users. Besides, we provide every client with the best-fit approaches and tools to build, maintain, and boost the performance of the NFT Launchpad. The team is well aware of the industry changes since we've been transforming it for over 7 years. With our bright specialists, you can get the best result and hit your marketing goals. Entrust us with your project, and you'll get a top-quality NFT gaming launchpad platform!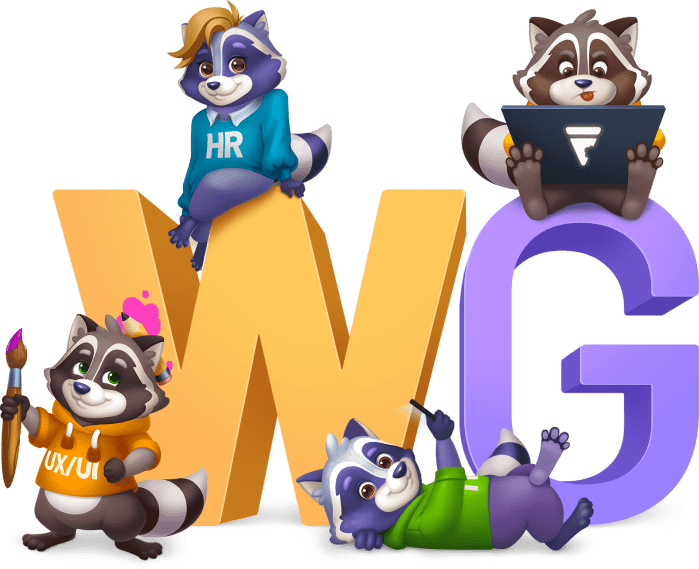 We Offer

Tokenization
Our company builds a platform that interacts with decentralized exchanges for rapid and simple transactions within the Metaverse. We design the NFT gaming Launchpad considering the latest tendencies and future trends to offer your users hassle-free interactions with tokens.

Deflationary assets
Our specialists make NFT Launchpad ensure a fair distribution of assets and NFTs, so they don't lose their liquidity as time goes by.

NFT Listing
Our developers involved in NFT gaming launchpad creation offer immediate Launchpad listings with all helpful information, including creator, owner, price, description, and NFT's original minting platform. Additionally, it allows for ramping up NFT traction and visibility among NFT collectors and crypto investors.

Wallet
The integration of wallets into the NFT Launchpad allows creators, artists, and NFT collectors to interact with each other and carry out transactions seamlessly.

Workflow Clarity
For our Whimsy Games team, transparency lies at the heart of every project creation. We are open and flexible, which helps us to satisfy stakeholders and deliver each project of NFT gaming launchpad creation in a well-thought-out way.
Features
Hands-on experience in developing NFT Launchpads

Our team has a portfolio of 80+ successfully achieved NFT projects. We build an NFT Launchpad platform from scratch for businesses of all sizes, including startups and enterprises.

Interoperability

We create games available across different platforms on the blockchain network. Thanks to their decentralized nature, players can trade and exchange their assets and NFT tokens hassle-free.

Unique approach

There are no two similar projects. That's why our NFT launchpad creation company treats every project in a particular way. We provide solutions based on your needs.

Use of advanced technologies and tools

Quality is crucial, just like mastery! We use only proven tools and technologies for NFT gaming launchpad development to achieve great results and exceed our clients' expectations.
Genres We Сreate
Adventure Games
Arcade Games
Casino Games
Fantasy Games
How We Work
Introductory meeting

As an initial step of our project, we meet to discuss your business needs. Then, from our side, we offer you the best solution to hit set targets. We also collect a team of needed specialists who can help with your requirements. Ultimately, we negotiate the costs and deadlines, build a roadmap and define milestones.

Prototype generation

After that, we start building a prototype of the NFT launchpad. Our specialists offer proven solutions for your platform, including design, user interface, and software for impeccable workflow.

Software creation

Developing NFT gaming launchpads kicks off. The dedicated team of developers applies proven tools to develop software in line with set criteria. Specialists ensure the seamless functioning of the platform.

QA stage

None of our projects was rolled out without a complete quality assurance process. QA consists of different steps. We check every single bit of software and every function to maintain a high quality of NFT gaming launchpad development.

NFT Launchpad deployment

When everything is ready, fixed, and polished, we kick off the deployment process. We provide users with available functions and monitor how different features are run. Our team troubleshoots once defects get detected.

Performance review

We don't finish our cooperation after delivering your project to the audience. We keep tracking the NFT Launchpad's performance and analyze results to improve the functions.

Post-release support

You can contact us whenever you need to solve some troubles or misfunctions. We'll keep providing your NFT Launchpad with updates to boost performance and satisfy the users of the platform with fast and smooth functions.
Why US
01

Niche Expertise. We are exploring the decentralized space and its peculiarities. Our Whimsy Games team keeps up with trends and innovations to deliver services that cover your current and long-term goals.

02

Customer-centric approach. It's essential for us to make every process clear and agree on the end result. So we set milestones and benchmarks to ensure your expectations align with our actions.

03

Flawless communication. Everyone in our company likes keeping in touch with our clients. Specialists are open and ready to help. Tell us more about your expectations and always get advice on how to improve your project. Communication is a cornerstone of our workflow.

04

Undeniable security. Security in the Metaverse is a major concern. We make sure your data is protected and eliminate fraudulent operations or transactions.
Frequently Asked Questions
NFT Launchpad is a cryptocurrency platform that helps a promising project succeed in reaching out to the target users and monetizing.
NFT Launchpad aims
at bringing investment to NFT creators once they come up with an idea, concept, or art, but before starting to mint tokens.
NFT Launchpad holds numerous advantages for investors and creators. The former can find fancy NFT pieces, while the latter has an opportunity to reach out to their audience quickly and hit the right investors. NFT Launchpad also ensures fair distribution of the initial token offering and is a safe, scam-free space.
NFT Launchpad holds numerous advantages for investors and creators. The former can find fancy NFT pieces, while the latter has an opportunity to reach out to their audience quickly and hit the right investors. NFT Launchpad also ensures fair distribution of the initial token offering and is a safe, scam-free space.
We not only offer developing an NFT gaming launchpad but also build NFT marketplaces, making NFT and blockchain game development and design. Let us know if you want to discuss your NFT ideas or need to ramp up blockchain tech. We'll choose the best mechanics to boost your product. Drop us a line!
Since NFT launchpads is a protected ecosystem with verified information, companies can display their assets, register a trademark, represent the product's authenticity, and manage critical data. What is more, businesses can also be sure of transparency of the processes as they receive all the critical information about transactions.