Online Casino Game Development Company
Whimsy Games strives to create vivid and engaging casino games that provide your clients with the unrivaled gaming experience they've been looking for. Our talented team of professionals is aware of the needs of gamers and works hard to design graphics and other elements that anticipate their desires.
Get in Touch
portfolio
75

professionals

creating top-notch games

7

years

in the game industry

15

games

released

99

clients

trust our expertise
About Services
We are a leading developer of casino games. We are based in Ukraine and provide quick and complex solutions for casino game design and software all over the world. With over 15,000 hours of experience, our developers create online casino games that stand out and always capture the attention of a large audience. We provide top-tier casino game development services so that your users can enjoy a thrilling casino experience.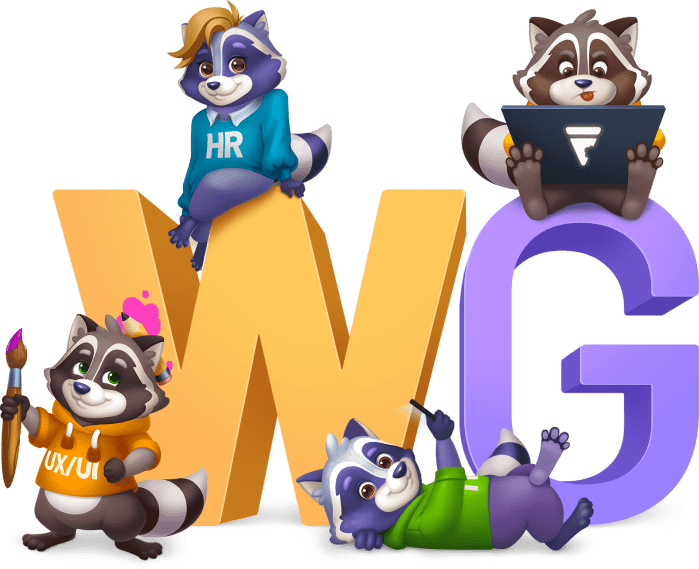 We Offer:

User Interface
Our online casino game developers design an appealing and user-friendly interface to capture your users' attention from the first seconds. Users are likely to return to you because they enjoy the app and navigation.

Sense of community
Because slot games are a part of social media, users can stay in touch with family and friends while also discovering new app followers. We can bring your users closer together and provide a realistic casino experience across their screens.

Privacy
Users' data is our top priority, so we work hard to maintain a high level of cybersecurity in the gaming landscape. To ensure safety in the digital landscape, our team employs cutting-edge technology.

Client-Oriented Approach
All of our processes are centered on the client. During online casino gameplay, we do our best to create a one-of-a-kind interaction with each player. Our team provides informative tutorials to clients in order to make our meetings quick and pleasant.

Bonus system
Thank you for considering us! We always have special offers for our clients because we value them.
Features
Slot Game Development

Our casino game development services ensure that you receive a complete software development solution, from architecture and design to game launch.

Slot Game Art

Our team includes talented designers and illustrators. They design customized casino games from the first sketch to the entire slot machine graphic. They will create artwork with historical, cultural, or other references.

Slot Game Animation

Incredible special effects and lifelike animation

UI/UX Design

Accessible and navigable user interface design
Genres We Сreate
Branded Slot Games
Classic Slots
Bingo
Card Games
Mobile Slot Games
AWP Slots
3D Slot Games
How We Work
Brainstorming and Setting up Goals

Our casino game development company takes the client's request, collects ideas, creates a detailed plan, and creates a roadmap for the project. To provide timely solutions, we plan and assign tasks to specialists

Designing Visuals

We develop the concept, identify style and meaningful points, and create preliminary sketches. Our illustrators create animations and, if necessary, adjust special effects.

Developing & Coding

Ad hoc software for a future slot game is created by our casino game developers.

Testing

We are detail-oriented nerds, so we conduct alpha and beta testing to double-check the product and ensure it meets all requirements. We deliver the slot game's final version.

Deploying

At this point, we publish the game on Google Play and the App Store. We promote slot games through various channels, monitor traffic, and collect analytics.
Why US
01

Our casino software developers create your ideal casino game.

02

We make all game assets from your ideas.

03

We understand casino types and offer the best solutions.

04

Our experts stay current and offer the best solutions.

05

We provide real-time support throughout game development and design.

06

We explain each casino game development stage.

07

Your game will stand out from others.

08

Our products are top-notch.
Frequently Asked Questions
Our online casino software developers use proven tools to maximize productivity and appeal. Unity and Unreal Engine are the most popular game engines for our goals. There are alternatives. Our team creates unique gameplay using the following game architecture: Mobile Corona and Fusion, web Construct 3 and Phaser.
We design casino game concepts on demand. Our designers and illustrators discuss your project vision and suggest ways to bring it to life. Based on your ideas, they create a unique character, creature, or world.
Slot game development
includes slot machine art, mechanics, engineering, and coding. Graphics and user interface, the main criteria, are also important to us. We disprove the online casino software myth and show that online casino games are as good as offline ones.