Environment Concept Art
At Whimsy Games, we have a team of design experts who can easily create an engaging game setting. We're always ready to help, even if you're unsure about the direction of your project. Let's work together to develop a lovely game!
Get in Touch!
portfolio
75

professionals

creating top-notch games

7

years

in the game industry

15

games

released

99

clients

trust our expertise
Features of Environment Concept Art
Designing captivating visuals for games is a crucial responsibility for any studio. It greatly enhances the gaming experience by setting the right atmosphere. Be it a magical forest or a dystopian world, environment artists should possess the necessary skills to work with the game's genre and graphical style. At Whimsy Games, we collaborate with top-tier artists to create exceptional in-game landscapes that engage your users and bring your ideas to life.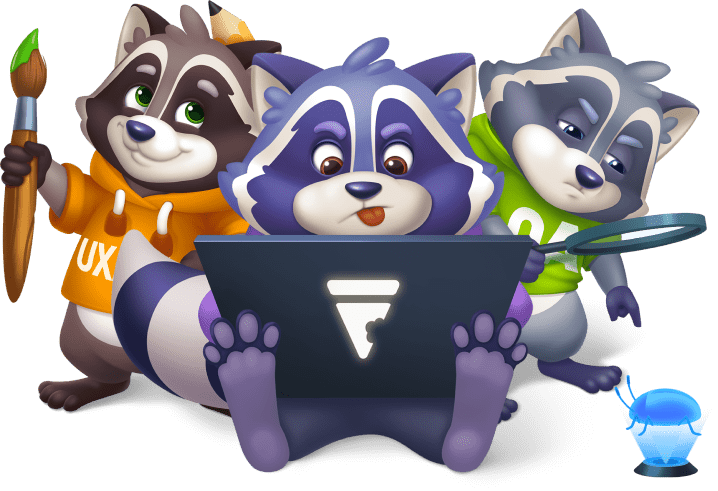 Environment Concept Art Services

Character design
Characters are frequently used in the graphic design of our gaming environment. We'll choose appropriate references and styles for your characters so they blend in seamlessly.

Architecture design
Game architecture design is a difficult process. It necessitates knowledge of engineering, geometry, and applied sciences. Our experts will use their extensive knowledge to develop designs for whatever style of structure you want, from comical and strange to classical and futuristic.
Props design
Props are typically non-functional game components, which means that characters cannot interact with them. They do, however, contribute to a more complete image and provide a pertinent feel. We'll work with you to create props such as interior and exterior pieces, decorations, and more.

Interactive object design
We can also assist you with creating in-game things with which characters may interact, such as animals, weapons, and cars. Our environment concept art pros will assist you in providing fantastic gaming experiences by including life-like features.
Features
Experienced teams

Whimsy Games provides skilled specialists with expertise working with concept art and environment designs in the appropriate genre and visual style. Our professionals have years of expertise in many fields, and we'll select the ones that best match your project's needs.

Advanced technology stacks

We always select a collection of technologies to meet specific project needs. To create excellent concept art for your game, we only utilize the most powerful and up-to-date technologies. You can always define the tools you want to use to work on your game.

Original content

To ensure that your game is a commercial success, our teams produce fresh concepts with a focus on the latest trends and the tastes of your target audience.

Business-driven attitude

Our professionals understand the significance of reaching corporate objectives. We provide business-savvy individuals who understand the industry and how to create profitable solutions.
Genres We Create
Fantasy games
Action and adventure games
Arcade games
NFT games
How We Work
Introductory meeting

We will set up an introductory call with you to go over your primary needs and your particular preferences. We also assess deadlines, identify the size and skill of your project team, and optimize the workflow to achieve maximum efficiency.

Project preparation

We create a technology stack based on the sort of project you have. To assure the finest quality, we select the best 3D pixel art software and hardware.

Sketching

We start by sketching and developing rough concepts for your game. We work on items, vehicles, props, and people and provide you with early prototypes of how they can appear in your game.

Final approval

We will send you the final art versions as soon as they are completed. We correct any flaws and begin incorporating designs into your game.

Post-release support

After the game is released, you can also seek post-launch assistance. We can address visual issues as well as create new characters and things for you.
Why Us
01

We value our customers and work hard to ensure that every environment's graphic design solution is of the highest quality.

02

We never impose additional or hidden fees when working with clients.

03

We always provide accurate project estimates and never recommend services that you do not require.

04

Our team places a high value on open communication and honesty.

05

We consistently provide detailed feedback and project updates on schedule.

06

You can change the team to meet your current needs. You can change the number of employees or the task specifications.

07

We want to give you the flexibility of choice so that you can receive exactly what you need.
Frequently Asked Questions
Props, characters, backdrops, and environments for the game are all examples of environment concept art. Creating these images provides a clearer, more complete picture of what the game will seem like and aids in the creation of the essential feel. Indoor and outdoor elements, interactive and non-functional props, cars, animals, and so on are examples of environment elements.
Creating concept art for in-game aspects allows for a better grasp of how the game should appear. It is not necessarily the final version of the characters, buildings, and objects, but it provides useful guidance to artists in charge of actual game representation. Furthermore, generating appropriate concepts will aid in bringing a proper mood and style to the project.
Environment
concept artists
are in charge of selecting appropriate inspirations for props and characters and generating original images based on them. They aid in understanding the game's appearance and ambiance. Concept art is what makes in-game elements suit your project's plot and setting.
You can browse for concept artists on freelance platforms such as Upwork or Freelancer, or you can start by browsing works on art-sharing websites such as Behance. You can also use job-search engines and social media sites such as LinkedIn to identify qualified individuals. Another alternative is to collaborate with an outsourcing business that can handle the hiring process and assist you in finding the most suitable specialists more quickly and efficiently.
There are numerous reasons to hire concept artists for your game. For starters, it is both cost-effective and time-efficient. You don't have to waste time looking for great people, and it's less expensive than employing personnel in-house. You outsource all of the work to an outsourcing business. At the same time, you have the last say in selecting potential employees and revising the team – anything from changing the number of teammates to managing their workload and assigning new responsibilities is up to you.