Concept Art Services from Video Game Studio
Any of your ideas may be visualized by our concept art company. We develop wonderful new worlds because of our creativity, professionalism, and dedication. Concept art allows you to visualize a virtual world prior to the development process.
Get in Touch!
portfolio
75

professionals

creating top-notch games

7

years

in the game industry

15

games

released

99

clients

trust our expertise
Whimsy Games — a Concept Art Outsourcing Studio
Whimsy Games brings together devoted specialists to provide top-tier concept art services. Our team's dozens of developers and designers assure the excellent quality of our games and art movies. Whimsy Games' expertise covers the whole development cycle. When creating concept art, they draw inspiration from gaming and industry trends.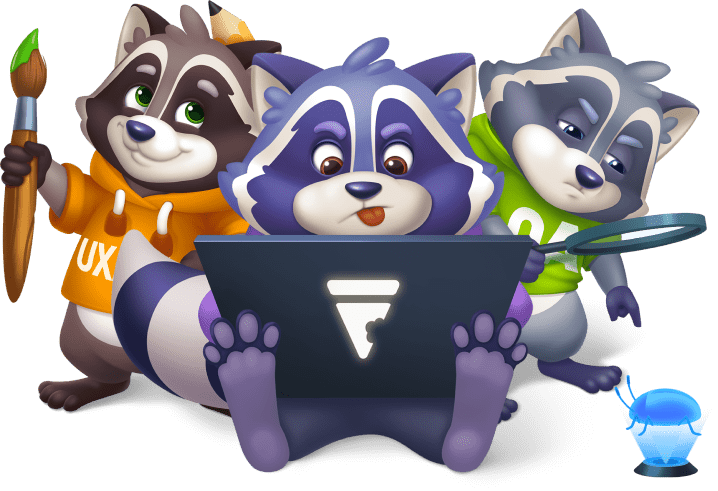 We Offer:

Character Design
New characters can be created by our concept art agency. You'll appreciate a wide range of styles and genres, from lifelike to cartoon characters. Count on our attention to detail and the game idea, which adequately covers the primary and supporting characters.

Visualizing Location
The environment is critical for an immersive experience. That is why our team creates a realistic representation of the fictional universe. We make non-existent locations seem and feel real.

Level Crafting
While planning and designing levels, the Whimsy Games team keeps up with current industry trends. Our concept art studio pros understand how to capture customers' attention and allow them to fully enjoy games.

2D and 3D Design of Objects
We modify the characters for their virtual environment, attempting to give them a genuine appearance. Every curve is carefully considered by our designers. That is why the characters are appropriate for the game type.
Features
Mobile Gaming

Our team investigated the benefits of several mobile applications. It's no surprise that our text and images appear well on all devices.

3D Concept Art Design

We use 3D concept art to create distinctive and lifelike gaming environments and characters.

2D Concept Art Design

Our designers use well-thought-out concepts to produce eye-catching 2D designs. You receive a complete image of the virtual world even before it is created.

Video Gaming

Our team can create many game layers that focus on key areas of game mechanics and game concept development.
Genres We Сreate
Character Design
Creature Design
Environment Design
Prop & Asset Design
How We Work
Stage of Planning

Our concept art agency gathers ideas and does research on a project.

Utilizing References

It's a two-way street: we show you our references, and you show us yours.

Choosing the Right Tools

Our designers select the appropriate instruments for your concept art job. Furthermore, we allocate the best-fitting team member to each individual assignment.

2D Animation Drawing

Your requirements may differ. So, too, do our methods. To create games, our designers employ a variety of technology stacks (such as Unity or Spine).

Making 3D Art

Our concept art agency seeks the most efficient methods of improving product performance. That's why we put so much effort into the game's features, the amount of characters, and the terrain.

Making the Game Stand Out

The final step is to customize the animation in Unity so that it matches your expectations.
Why Outsource Concept Art
01

Our experts can create a result that will please both you and your consumers.

02

We've been working in the game development sector for ten years.

03

We blend our knowledge with the most recent developments and tailor them to market need.

04

Communication is essential for us to guarantee that the game meets the client's expectations.

05

Share your game concept with us, and we'll use all of our abilities and experience to bring even the most audacious concepts to reality.

06

Our accomplishments are documented in data. Check out the results for yourself.

07

We worked hard on the game's features, the number of characters, and the landscape.
Frequently Asked Questions
A game conception is a concept for a future game. It consists of storytelling, art, and promotion and may be outlined on a screen or on paper. You will discuss every stage of game production with our team of developers, designers, and marketing professionals to ensure it corresponds with the project goals.
The game vision is represented through concept art, which includes characters, special effects, and a backdrop. Illustration, on the other hand, is a visual that depicts the key characters, antagonists, and setting to correctly portray the tale. These are two distinct procedures.
Concept art is a behind-the-scenes look at game creation and development. It saves a lot of time and work on game development and helps to discover peculiarities before the production stage. The concept art assists each team member in understanding their role in the process and adhering to the roadmap from the start.
Character development, landscape construction, weaponry, vehicles, and other concept art services are available. Concept art is a preliminary portrayal of an idea that aids in the acceptance of a game's mood before the final version is released.