Hire Concept Artists
Do you need to hire a concept artist for your project? Whimsy Games can give you a helping hand! We are a top-rated game development agency with rich experience creating online and video games. Our concept artists bring breathtaking virtual worlds to life. You can opt for any suitable partnership model. Trust us, and we find you a skillful concept art talent for your needs.
Find concept
portfolio
45

advanced specialists

Ready to create stunning concept art.

15000

hours spent

On building outstanding games for our clients.

50

top-rated games

Developed by our creative team.

500

successful solutions

Delivered for our clients from different parts of the world.
About Services
With us, you can hire Unity developer teams for various purposes: working on an entirely new project, enhancing the one you're currently running, or ensuring support for a launched title. So be sure — our developers deliver exactly what you need in a timely, professional manner.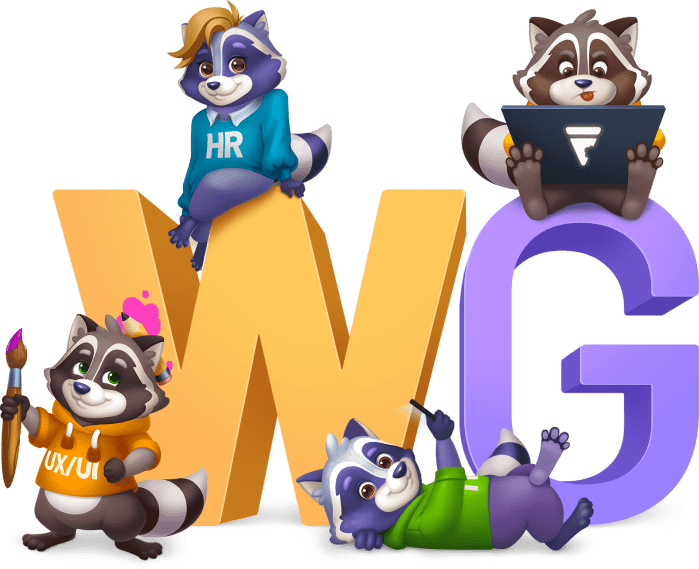 We Offer:

Game Concept Development From Scratch
We take your idea and make it real. Our artists will build an exceptional game concept based on your vision and tailored to your requirements. With us, you get guaranteed expertise in 2D and 3D animation, imaginative approaches, and high-quality tools.

Character Design
Whether your game is realistic or cartoon-like, our concept artists will surely make the characters memorable. We are careful with details and polish the initial concepts to perfection.

Game Setting Visualization
We strive to provide the players with unforgettable gaming experiences. Therefore, one of our concept artists' essential goals is to create stunning game settings. We can visualize detailed virtual worlds and create immersive gameplay locations.

Level Design
Concept art is not just visualizing ideas. It involves internal game logic and each stage's consistency. Our artists and designers ensure imaginative and detailed level design. Hence, every gameplay element is well-thought-out and carefully discussed.

Expending Your In-house Team
Does the core team working on your project lack specific expertise? If you want to expand it effortlessly, turn to Whimsy Games. Our talented concept artists are ready to join your project without time-consuming training. With us, you will achieve the desired results without searching, hiring, and onboarding additional specialists.

Post-release Support
Our concept artists can join your project and stay with you after the launch. They will ensure timely updates and regular post-release support. With our team, you can painlessly scale your game whenever required.
Features
Concept Art for Mobile Games

We create concept arts and develop games for all major mobile platforms. We can tailor stunning game designs and graphics to all devices and mobile screens, including iOS and Android.

Concept Art for Video Games

Our talented artists are ready to build outstanding concepts for various video game development projects. We prioritize your requirements and use our rich expertise to deliver high-quality solutions.

2D Concept Art

Before initiating the immediate development process, our 2D artists come up with several concepts for your game. Thus, you can choose the style and share your vision to put the project on the right track.

3D Concept Art

When working on 3D projects, we use the concepts created by our artists to get a clear idea of the future game. They shape the characters and landscapes before turning them into unique and realistic 3D models.

Game Objects Design

Our game artists ensure careful detailing of the entire game environment. Thus, every object, including vehicles, weapons, buildings, etc., will perfectly match your game's style and genre.
Genres We Сreate
Top-notch Professional Experts
Bold and Innovative Approaches
Soft Skills You Deserve
Rich Background
How We Work
Outsourcing

When opting for this engagement model, you entrust us with all concept art and game development services. We will pick top specialists matching your requirements and ensure high-quality deliverables. You won't have to worry about interviewing, hiring, and managing the team. Instead, we take up these responsibilities and guarantee successful results.

Outstaffing

This option is more suitable if you prefer managing the hired experts independently. You will control the workflow, tasks, and deadlines in this case. We, in turn, provide you with a rich talent pool to choose the proper candidates. Also, our studio will take care of all administrative and financial routines, including the employees' salaries and necessary tools.
Why US
01

Flexible Staffing Methods. We ensure flexibility. Our company is ready to adapt to your requirements and provide dedicated professionals within a convenient stuffing model. You can outsource the entire project or expand your in-house team with our specialists.

02

Fast and Reliable Selection Process. We choose top professionals. Our company has established fast and effective ways to recruit and hire the best talents. So if you don't have time for a long-lasting candidate search, we will take care of it.

03

Cost-effectiveness. Our prices are reasonable and transparent. You don't have to worry about hidden fees and budget inflations. Turning to our company will be much more cost-effective than building or expanding your in-house team.

04

Dedicated Support. The workflow is under control. Throughout the project lifecycle, we support our concept artists and help them achieve excellent results. So you can avoid micromanagement and focus on your business priorities.
Frequently Asked Questions
A concept artist is responsible for creating initial sketches and drawings before the game development starts. They draw landscapes, characters, buildings, and other objects to define the future game's peculiarities and style. Concept artists create thumbnails and wireframes using various design techniques. They operate multiple specific tools like Photoshop, Maya, and ZBrush.
Concept art creation consists of several vital steps. First, you need to
hire a concept artist
who meets your project requirements. Next, the chosen specialist evaluates your ideas and vision. Finally, the artist will create sketches based on the discussed plan. These may be your game's environment, characters, objects, etc. The further design and development stages will draw from these workpieces.
The cost of a concept art depends on several critical factors. These are the project's complexity, the required tools, and the time needed to create sketches. The average hourly rate of an outsourcing concept artist is twice or even three times less than an on-shore one's. Thus, if turning to our company, you can find a concept artist for hire, saving costs without compromising the services' quality.