Unity 3D Game Development Company
Unity 3D game development is one of the many services we offer at Whimsy Games. With many-year expertise in game development, our team can turn your creative ideas into excellent software and design for unforgettable and totally absorbing gameplay. Our team builds a vivid, immersive world using Unity, as this engine allows us to hit our goals and design appealing game applications.
Get in Touch
portfolio
75

games

creating top-notch games

7

years

in the game industry

15

games

released

99

clients

trust our expertise
About Services
Whimsy Games offers customer-tailored unity 3d game development services for different business purposes. We optimize all mobile game functions for gamers to enjoy your app's seamless work. Our team integrates cutting-edge solutions to provide players with unforgettable gameplay. We're a Unity 3D game development agency capable of creating the game from scratch and supporting you with its release and promotion. Our talented specialists keep an eye on details and develop robust software. Every game we build aims to satisfy loyal players and engage with new gamers. Besides, we use proven tools to integrate the latest VR and AR technologies and make them function seamlessly and hassle-free. Tell us more about your project, and we'll do our best to release a high-end game for you!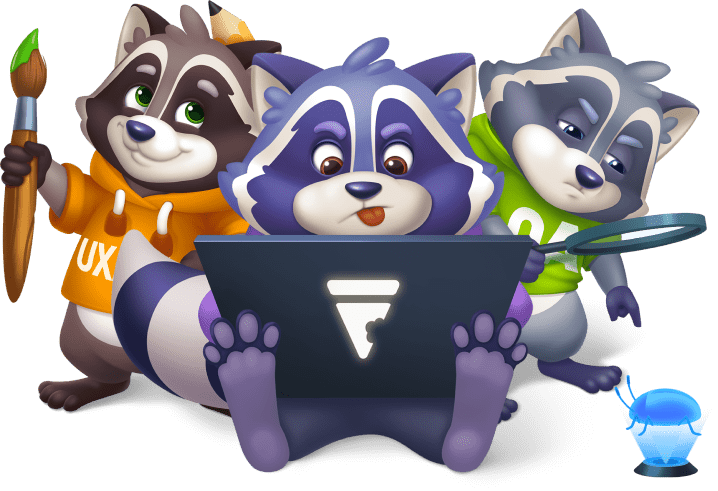 We Offer:

Player-centric solutions
Whimsy Games will help you to hire game developers quickly and start working on your new projects ASAP. We will take care of every process from ideation to product release. Our service pack includes assistance with documentation, design, concept creation, and development.

Multi-platform support
We develop and deploy Unity 3D games on various platforms. Create a game once, and make it available on desktop, mobile, and other gadgets.

Qualified developers
All specialists in our advanced unity 3d game development company are qualified specialists that don't give up learning. They look for the best approaches and mechanics to deliver a unique, competitive game software and design.

Industry-acknowledged results
For about ten years, Whimsy Games has developed games in different genres and for multiple purposes. Numbers speak for themselves – over 70 satisfied customers!

AR Unity 3D game development
Unity is a proven engine that allows us to create a top-notch product. With a wide range of features, we can integrate tools that will enable users to dive into the world of augmented reality and enhanced gameplay.

VR Unity 3D game development
We create a fascinating virtual world with eye-catching characters, a vivid environment, and multiple assets. Our specialists adjust all processes and guarantee the smooth functioning of the game.
Features
Detailed Characters Appearance

We know that every character is the players' primary focus. It's one of the significant elements that attract people. That's why our specialists focus on details and elaborate on smooth movements when creating a protagonist and other characters.

Interactive experience

Unity 3D is a perfect tool for creating an interactive experience. It will make your game even more fascinating, whatever the genre is.

Mobile game development

We build games supported on Android and iOS. Our team is well aware of the peculiarities of every operating system and helps players make the most out of the gaming process. Developers can easily build and port their games from one platform to another.

Effective 3D scene rendering

Unity 3D is an engine that ensures the perfect game creation process. It allows our Unity 3D game development company to produce products with fantastic visual effects and real-like images.
Genres We Сreate
Puzzles
Shooters
Strategies
Card games
Slot games
How We Work
Design

Our artists make prototypes of visuals to integrate into your 3D game later. And, of course, we approve every character, landscape, and object with you.

Software creation

We develop software according to the game's capacity and make sure it corresponds to the market requirements.

Quality assurance

We run a QA test after every stage of the game development process. However, our specialists check the game on different levels and improve errors and bugs at the final step.

Release of Unity 3d game development

Software deployment might be one of the most challenging stages. But, no worries, you have our helping hand. Our team supports this process from the start till the end.

Post-release support

Once your game is live, we still give you our helping hand and support. In other words, we'll troubleshoot errors and bugs instantly.
Frequently Asked Questions
Unity 3D is industry-acknowledged and the most popular game engine. It undoubtedly is the best choice for building 3D games with smooth flow and impeccable design. Unity's assets provide superb quality of visual effects and intuitive design of the app.
Unity is the best, tried, and tested tool for developers to create advanced Unity 3D game development. It's a simple and intuitive platform for high-quality game production.
The time varies depending on the complexity of the project. However, it takes from six months to about two years in order to develop software for a 3D game from scratch and deploy it. Actually, the project duration depends on its complexity. Contact our team, and we'll estimate your project and let you know what you need to roll it out. Our engineers are experienced in building games on the Unity platform. That's why when choosing our services, you don't have to waste time waiting when a developer will get familiar with Unity.
All Unity 3D game development services have three main stages: pre-production, production, and deployment. At the pre-production stage, we discuss all details and build a roadmap. Then our developers create robust software to satisfy the game's capacity. And the last stage is focused on rolling out the product and providing support to its functions.