3D Artists for Hire
Got a stunning 3D game idea but lack capacities to create game visuals that would
match your vision? Whimsy Games is here to help you! With us, you can hire 3D artist
teams and start working with them ASAP. We offer cost-effective, high-quality results
and a flexible pricing model so you can perfectly meet your budget expectations.
Let us show you why else it's worth working with Whimsy Games!
Find a team!
portfolio
We Offer:

3D game art from scratch
Our teams can start working with you from the very beginning. Our talents will take care of the concept art, finalizing the visuals, and bringing all your ideas to life in the best way possible.

Enhancing your core team
If you already have a team of artists, but they haven't worked with the new genre, platform, or 3D game art in general, our specialists come to the rescue. With our skilled creators, you get stunning art in any style. Also, they'll share necessary knowledge with your core team to boost their competencies.

Ongoing support
If you hire 3D artist teams with us, they won't say goodbye as soon as you release the game. Instead, we provide constant project support to ensure perfect visuals with no flaws. We can also develop new characters, items, or entire worlds if you want to scale your game.
Features
Character design

Our 3D artists for hire have developed characters of any complexity and detail, so they can easily create as many diverse people, animals, monsters, or robots as possible.

Environment design

One of the main points of 3D games is creating an exciting world to explore. We can bring all your ideas to life so everyone can enjoy stunning views and realistic environments.

Props design

Without supporting objects, the worlds and characters don't seem complete. We can work on weapons, vehicles, interior elements, and practically anything you might want to add to your world to make it pop.

Icon and item design

If appropriately made, icons, status bars, and buttons add to the UX and improve the UI. We'll ensure every visual game element will be in its place and look 100% appealing and easy to follow or navigate.
75

professionals

creating top-notch games

7

years

in the game industry

15

games

released

99

clients

trust our expertise
About Services
With us, you can hire Unity developer teams for various purposes: working on an entirely new project, enhancing the one you're currently running, or ensuring support for a launched title. So be sure — our developers deliver exactly what you need in a timely, professional manner.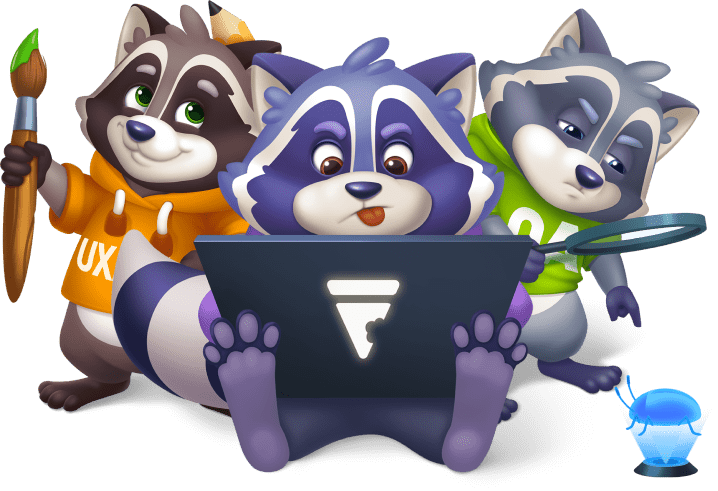 How We Work
Outsourcing

Save time on the employment process — we'll do this for you! We'll select the most suitable candidates from our database who'll start working on your project once you're ready.

Outstaffing

You sign the employment agreement, and all the new employees are under your control. You take care of giving away tasks, managing the process, and quality review. We'll provide administrative services like paying salaries, finding the workplace, and necessary equipment.
Why US
01

Great value for money. Whimsy Games offers fair pricing with no hidden fees. In addition, we accurately estimate the timeframe to avoid budget overruns and unexpected costs. Plus, our services let you save 50% on hiring in-house 3D artists working full-time, making cooperation with us a pleasant investment.

02

Outstanding creativity. Our 3D game artists offer out-of-the-box ideas and concepts. They create eye-catching art and can boldly combine art styles to develop something unique for your game.

03

Original ideas and designs. If you hire 3D artist teams at Whimsy Games, you'll see that our professionals never create copycats or use a "copy-paste" pattern in their works. Instead, we care about your every project and want to make every game compete well on the market. You'll get original ideas exactly when and where you need them.

04

Deep knowledge and expertise. We've been working in game dev for over seven years and have already achieved significant results in 3D game art. Our artists have impressive portfolios and have worked with various art styles, genres, and platforms.
Frequently Asked Questions
3D game art is creating three-dimensional game objects using height, width, and depth, which give volume to characters, objects, and surroundings. It's quite an expensive game visualization type to create, requiring up-to-date software and powerful computers to work with. 3D art enhances movement and controls in the game and lets players explore the surrounding world better.
3D artists for hire create three-dimensional models of every visual game element, including the environment. Professional artists don't just work with light, shadows, and composition. They're also well experienced with complex structures like anatomy to provide more realistic characters and enhance the visual gaming experience.
If you want to hire 3D artist teams for your game project, you can look at some of the most popular and trusted platforms like Behance, Fiverr, Freelancer, or Upwork. One of the critical selection criteria should be their portfolio so you can see if they've worked with your genre and art style. Alternatively, if you want to save time searching for artists alone, you can leave a request to an outsourcing or outstaffing company to help you quickly find relevant professionals.