Hire a Game Developers
Have an idea for a potential hit among games but not enough time to search for an experienced development team? Whimsy Games will gladly help you! With our extensive pool of experts, we can easily hire a game development team for you without extra hassle or time-consuming interviews and screenings. We offer different collaboration models and provide professional developers to deliver a high-quality product tailored to your needs!
Get a team!
portfolio
75

professionals

creating top-notch games

7

years

in the game industry

15

games

released

99

clients

trust our expertise
About Services
With us, you can hire Unity developer teams for various purposes: working on an entirely new project, enhancing the one you're currently running, or ensuring support for a launched title. So be sure — our developers deliver exactly what you need in a timely, professional manner.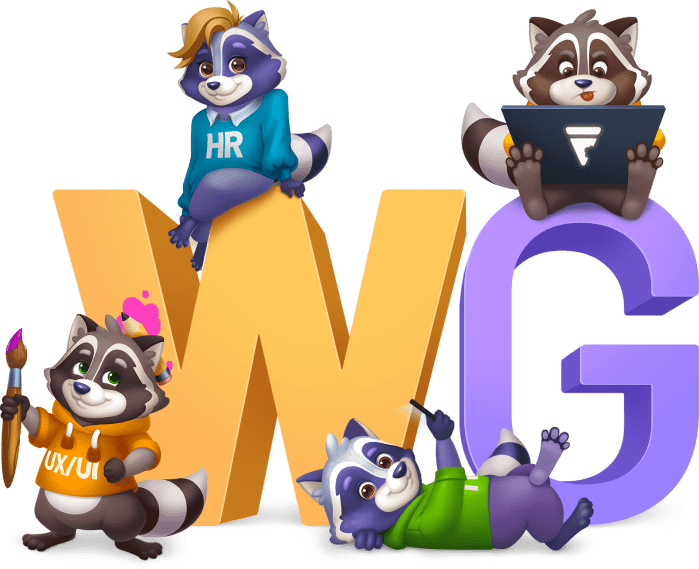 We Offer:

Game development from scratch
Whimsy Games will help you to hire game developers quickly and start working on your new projects ASAP. We will take care of every process from ideation to product release. Our service pack includes assistance with documentation, design, concept creation, and development.
Boosting your core team
We offer professionals with years of experience in game development. This would allow your team to fill gaps in relevant skills or knowledge. If you need more experts to help you with any game type or platform, our company will help you! Your needs and goals will be the focus of our attention.

Continuous product support
We won't just leave you alone with your project after the release. We can help you to ensure the game runs well on all devices, doesn't have any bugs, and keeps more and more people engaged as time goes on. We provide full-scale product support and update releases to keep the experience of gamers flawless and enjoyable.
Features
Mobile game development

We have immense expertise in creating iOS and Android games, covering any work for hire game studio. We know how to develop exciting and intuitive games with a great plot, well-designed progression, and engaging gameplay.

HTML5 game development

We can create any HTML5 game you might want. Our experts will make sure the games run well on various screens, have extraordinary 2D/3D graphics, and include a wide variety of other features to ensure they perform well in the market. All our designs or concepts are unique.

AI and AR game development

We use AI algorithms and AR to enhance the player's experience and create stunning games. Looking for game developers for hire to harness the power of machine learning? Our experts will leverage this technology to provide more realistic and engaging games with natural-looking environments and characters. We will help you to create unique solutions in which any player can interact with virtual reality in the most advanced way.

2D/3D art and animation

At Whimsy Games, we have a large pool of experts who have worked with 2D and 3D game art styles and animation for years. They can come up with extraordinary ideas or follow your guidance to develop stunning characters, game worlds, and objects.

VFX

We can handle any visual effect that comes to your mind! Our teams use powerful modern tools to create realistic and professional graphics, making your game visually appealing to a large number of players.

NFT game and art development

We follow modern trends in game dev and NFT game development is one of them. Our developers can handle a full-cycle NFT game creation and produce outstanding game concepts and objects. We create customizable and secure tokens and games.
Outsourcing

Forget about candidate search, hiring, and managing new employees. Leave all that to us! We'll quickly select the most relevant candidates from our extensive pool of professionals. We offer only skilled and highly professional game developers to deliver outstanding results and create awesome games.

Outstaffing

If you choose this model, you'll sign an employment agreement with a team of your choice. You will have complete control over the new employees. That means you'll assign tasks, set deadlines, manage the workflow, and run the tests. We'll take care of paying salaries and providing the necessary infrastructure.
Why US
01

Professional attitude. We work with experienced teams who have years of experience. All our game developers for hire have impressive portfolios and positive testimonials from previous employers. Quality is critical for us, and we keep our standards high.

02

Original ideas. Whimsy Games professes out-of-the-box thinking. You will never see similar projects in our portfolio. We carefully work on each game and add an individual approach to your concepts and ideas. As a result, you will get an outstanding game that will impress the players.

03

Great value for money. Finding a reliable game studio for hire, such as Whimsy Games, can save your money. Hiring game developers with us costs 50% less than hiring full-time in-house teams. We'll help you pick the most favorable pricing according to your needs and budget expectations — our team is quite flexible in this respect. We will help you estimate the timeframe accurately and avoid overruns.

04

Transparent communication. Our team values transparent collaboration. We never impose any extra charges or hidden fees, and we always discuss every issue and idea with you. We ensure flawless communication and collaboration with every developer you hire with us.
Frequently Asked Questions
If you want to
hire game developers,
they go through the standard process: from CV reviews to interviews with the team leaders or senior developers. If a developer wants to impress the company, this specialist should prepare an excellent, up-to-date portfolio. An experienced game developer should be proficient in at least two game engines, know the programming language (C# or C++), understand the 2D/3D animation software, and be familiar with the game production pipeline.
Game developers help to transform an idea or concept into a game. They code visual elements, program-specific features, and run iteration tests. Some other responsibilities of game developers for hire include generating ideas for game design, cooperation with designs, QAs, artists, and producers, game stability monitoring, code reviews and improvements, and porting elements or the whole game between systems.
The game development process starts with an idea. You will need to create a concept to get an idea of the looks, characters, and plot of a future game. Then, you pick an engine (e.g., Unity or Unreal Engine) or a framework. With the help of an engine or framework, you start working on a prototype. You'll need to create a minimum viable product or MVP. Once it is done, add audio and art. Try different styles. Add a full game loop and do a test run. If everything is OK, your game is ready for release!