Environment Concept Art Services
Our team at Whimsy Games offers experts in environment concept design to help make your game setting more appealing. We create designs according to your business needs and personal preferences. Therefore, with us, you'll always get exactly what you want. Even if you don't have a clear vision of your game, we'll help you out. Let's make a beautiful game together!
Contact the team
portfolio
75

professionals

creating top-notch games

7

years

in the game industry

15

games

released

99

clients

trust our expertise
About Services
Creating environment graphic design concepts for games is an essential task for every game studio. It helps create the necessary vibe to contribute to the gaming experience. Whether it's a magical forest or a post-apocalyptic world, environment artists need experience in working with the genre and the art style your game is going to have. If you need such professionals, feel free to contact our team. Whimsy Games provides top-notch artists to help bring your ideas to life and create outstanding in-game worlds your players would love to explore.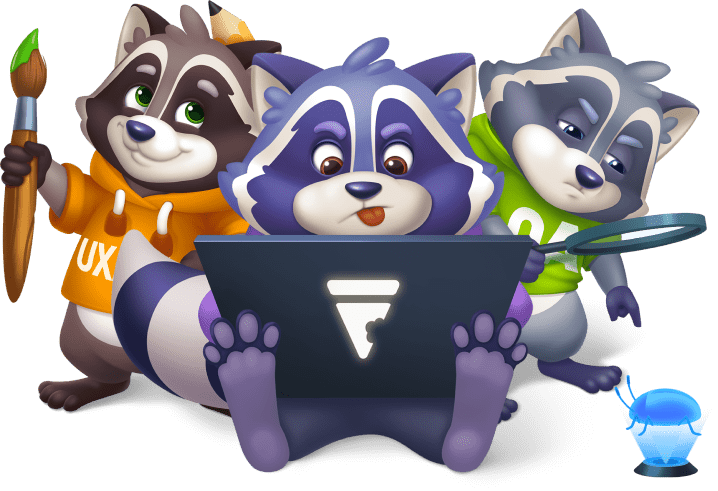 We Offer:

Character design
Characters are also part of our environment graphic design for games. We'll pick relevant references and select styles that would fit your characters most so they'll blend in perfectly.

Architecture design
Architecture design for games is a complex process. It requires skills in engineering, geometry, and applied sciences. Our specialist will leverage their profound expertise to create concepts for any type of buildings you need: from cartoonish and weird to classical and futuristic ones.
Props design
Props are usually non-functional elements of the game, meaning characters cannot interact with them. However, they help create a better picture and establish a relevant vibe. We'll help you develop props like interior and outdoor elements, decorations, and others.
Interactive object design
We can also help you design in-game objects characters can interact with: animals, weapons, vehicles, and so on. Our environment concept art professionals will help you deliver great gaming experiences through life-like elements.
Features
Experienced teams

Whimsy Games offers experienced professionals who have worked with concept art environment designs in the relevant genre and art style. Our specialists have years of experience in different niches, and we'll pick the ones that fit your project requirements.

Advanced technology stacks

We always pick a set of technologies to fit the particular project requirements. We use only the most advanced and up-to-date software to design awesome concept art for your game. You can always specify the preferred tools to work on your game.

Original content

Our teams generate unique ideas with a focus on the latest trends and your target audience preferences to make sure your game will become a success on the market.

Business-driven attitude

Our experts understand the importance of meeting the required business goals. We offer business-savvy specialists who know the market and know how to build successful solutions.
Genres We Сreate
Fantasy games
Action and adventure games
Arcade games
NFT games
How We Work
Introductory meeting

We arrange an introductory call with you to discuss the key project requirements and deadlines. We'll gather all the input we need to find suitable specialists and optimize the workflow.

Project preparation

We pick the frameworks and plan our progress to ensure the most effective cooperation. We select the necessary tools and hardware that would help us provide timely, high-quality results.

Sketching

We start sketching the first drafts for your game's concept art environment. We use references approved by you to deliver exactly the arts you need, making your game attractive and enjoyable.

Feedback and improvements

Once we're done with the first drafts, we show them to you to comment on them and point out the areas for improvement.

Final approval

Once we receive feedback from you, we will polish our concepts. When we're ready, we present them to you and finalize the art.

Game visualization

Our experts in environment concept design can also help implement all the visuals into your game to ensure everything fits in smoothly.

Post-release support

If you want to create new concepts or fix bugs after the release, we can help you do that upon request.
Why US
01

High quality. Our teams are highly professional and responsible. We value our customers and do our best to ensure the highest quality of every environment graphic design solution.

02

Fair pricing. We never impose extra charges or hidden fees while cooperating with clients. We always provide valid project estimates and never offer something you don't need.

03

Full transparency. Our team values open communication and honesty. We always provide timely, detailed feedback and project updates. Even if something goes wrong, we will always let you know and fix the issue as soon as possible.

04

Flexible terms. You can adjust the team according to your current needs. You may change the number of employees or modify the task requirements. We try to provide the freedom of choice to you so you could get exactly what you need.
Frequently Asked Questions
Environment concept art includes creating props, characters, backgrounds, and surroundings for the game. Creating these visuals brings a clearer, more complete image of what the game would look like and helps create the necessary vibe. Environment elements include indoor and outdoor elements, interactive and non-functional props, vehicles, animals, etc.
Creating concept art for in-game elements gives a better understanding of what the game has to look like. It's not necessarily the ultimate version of the characters, buildings, and objects, but it gives a relevant direction to artists who are responsible for actual game visualization. Moreover, developing the right concepts will help bring a suitable atmosphere and style to the project.
Environment
concept artists
are responsible for picking relevant references for props and characters and creating unique visuals based on them. They help understand better what the game needs to look like and its ambiance. Concept art is what helps in-game elements fit the plot and setting of your project.
You can search for concept artists on freelance platforms like Upwork or Freelancer or even start by looking at works on art-sharing websites like Behance. You can also try job-seeking websites and social media like LinkedIn to find relevant candidates. Another option to consider is to cooperate with an outsourcing company that can handle the hiring process and help you find the most suitable specialists faster and more efficiently.
There are plenty of reasons to outsource concept artists for your game. First, it's cost-effective and time-savvy. You don't have to waste a lot of time trying to find perfect candidates, and it's cheaper than hiring employees in-house. You delegate all the hustle to an outsourcing company. At the same time, you have the final say in selecting potential employees and adjusting the team — from changing the number of teammates to managing their workload and allocating new tasks.