Unreal Engine Game Development Company
Our game development studio specializes in creating cutting-edge UE-powered games in partnership with leading companies. Our team of professional developers is passionate about providing immersive experiences through challenging levels, mechanics, and innovative AR/VR/MR-based solutions that meet various business goals.
Get in Touch
portfolio
75

professionals

creating top-notch games

7

years

in the game industry

15

games

released

99

clients

trust our expertise
About Services
Whimsy Games offers full-cycle or partial development, and our team will bring your boldest ideas to life for any platform. Get unparalleled graphics, VFX, and leading technologies for your game with our professional Unreal Engine game development services. Choose flexible business models to augment your team with our specialists and pay by the per-hour price or make an individual agreement. Client needs are our top priority.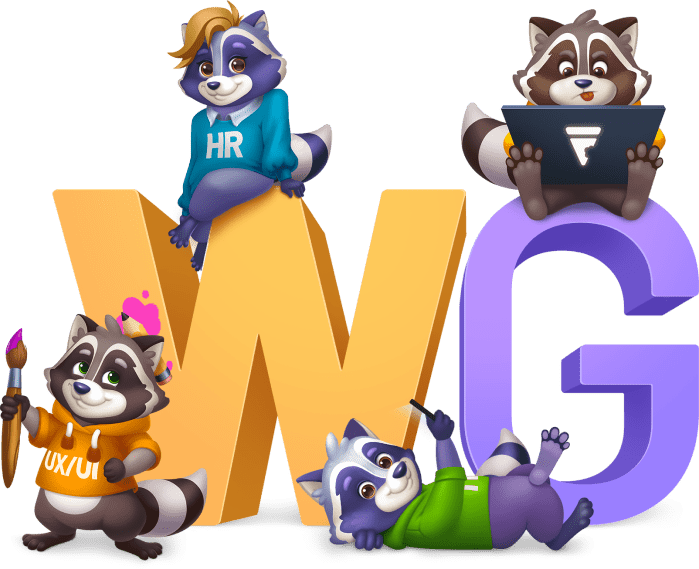 We Offer:

Full-Cycle Game Development
We offer end-to-end game development services, allowing you to monitor all processes in one place. You can focus on your company's development while we create your product. Our Unreal game company provides 100% customer-driven Unreal game development services. You share your idea with us and see how it's implemented in small sprints, ultimately turning into a self-contained game.

AR/VR/MR-Based Development
Our experienced engineers can deliver high-performance products with VR/AR/MR platform integration and ensure a great user experience. We provide solutions for various areas, including commerce, games, and education, and can quickly assess the viability of any idea while making recommendations for improvement.

Metaverse/NFT Game Development
Game development with Unreal Engine is ideal for complex projects such as metaverse/NFT game development. Our blockchain expertise ensures your project is unique.

Game Porting
If you want to distribute your game to a wider community on another platform, our Unreal Engine game development company can help you. We make existing games work with the engine and provide tailored solutions based on our client's needs.

Art And Animation
Whimsy Games offers art and animation services for lifelike character animations, breathtaking environments, and stunning visual effects - all essential elements in captivating audiences and immersing them in limitless possibilities.

Game Testing
The success of a game depends on its gameplay, visuals, functionality, and user experience. We offer game testing to identify and eliminate potential issues and glitches that may affect player enjoyment.
Features
End-to-End Project Creation

Our team is fully prepared to help you achieve the full potential of your project. We are equipped to assist you at any stage, ensuring a successful implementation and market entry.

Guaranteed Visual Quality

We bring together specialists with diverse functional backgrounds who share your game vision and can deliver high-quality graphics to ensure project success.

Perfect Delivery Pipeline

Our Unreal game development services come with full transparency and performance assessment at all stages. Clients receive feedback anytime.

Partnerships With Industry Leaders

We are proud to be trusted by top gaming companies, enabling us to implement best practices in our ongoing projects.
Genres We Сreate
Action & RPG games
Adventure games
Casual games
Racing games
Shooters
Casino Games
Strategy games
Unreal Game Development
Analysis & Data Gathering

Our first step is to understand your project goals and game vision. We analyze and create concepts to ensure the right direction.

GDD & Concept

After gathering all the necessary information, the Whimsy Games team will determine the optimal approach for realizing your ideas and document all requirements and references in a game design document.

Content Creation & Game Design

Unreal Engine is commonly used for 3D game development, which includes content creation such as modeling, texturing, sculpting, rigging, and rendering. Additionally, we focus on UI/UX design to ensure the game is user-friendly.

Development

Game content can be generated on different operating systems so that the development workflow will be adjusted accordingly. This includes language scripting, Unreal feature development, and UI/UX design.

Game Testing

This phase involves testing the game with focus groups before its release. Analysis of performance and user behavior is conducted. Bugs or errors are identified, and any flaws found are returned to the development stage for improvement. Once all mistakes are fixed, the game is released to users. Positive results lead to the game's release.

Release & Maintenance

Our partnership can end with a release or continue into post-production. Game maintenance includes bug fixing and performance testing.
Why US
01

Our experienced professionals create immersive games tailored to each client's unique requirements and brand.

02

We provide top-quality game art outsourcing services to business owners and developers worldwide.

03

Our team members work closely with clients to create innovative, interactive, visually stunning games using Unreal Engine.

04

Our team at Whimsy Games has been delivering high-quality game development solutions to the gaming industry.

05

We can help bring your game ideas to life through exceptional customer service.
Frequently Asked Questions
Outsourcing game development with Unreal Engine has become popular due to rising complexity and the need for advanced graphics and gameplay, offering an efficient and cost-effective way to create attention-grabbing products. Emerging markets in fast-growing countries like Ukraine with professional and passionate developers have attracted publishers due to affordable prices. Professional game development companies have extensive experience with Unreal Engine, enabling them to create games faster and more efficiently. By outsourcing Unreal Engine game development to a reliable partner, you can reduce the time it takes to create a game and get it to market quickly, allowing you to start generating revenue sooner. Additionally, Unreal Engine offers a range of state-of-the-art features and tools like Nanite, Lumen, or MetaHuman that can be used to create immersive games. Experienced game development teams like ours are familiar with these features and can use them to create more interactive and visually stunning entertainment applications. Expanding a game development department or hiring a team in Ukraine has become more attractive due to recent policies, a supportive business infrastructure, and the emergence of highly skilled developers, designers, and artists who offer their services at reasonable and relatively low costs. Outsourcing can save time and money. Professional companies like Whimsy Games have the skills and tools to streamline production. Outsourcing Unreal Engine game development to a professional team grants access to their profound knowledge, hands-on experience, and time-proven talent. These teams consist of qualified developers who specialize in Unreal Engine, allowing for the creation of premium-looking, engaging games that withstand the test of time. Outsourcing Unreal Engine game development can mitigate production-related risks since professional game development teams have experience mitigating threats and ensuring successful project completion.
Unreal Engine is an excellent choice for game development due to its top-tier graphics and visuals, multi-platform support, Blueprint visual scripting system, Asset Store, active community, and virtual production capabilities. Game developers are loyal to Unreal Engine due to its superior performance. Unreal Engine game development services, provided by experienced developers like Whimsy Games, can also benefit game owners. Our team of experienced developers and designers can help game owners create high-quality and engaging games that meet their specific requirements. We offer full-cycle game development services to streamline the process, from the initial concept to the finished product.
Creating a game in Unreal Engine can take several months to several years. Factors affecting development duration include: Scope and Team Size A simple game may take months, while a complex one may take years. A larger team can complete a game faster by dividing work into smaller chunks. Experienced teams that have worked on similar games can also complete the project faster. Assets and Platform Developing a game can take longer if it requires many complex assets, such as high-quality 3D models. Additionally, building a game for multiple platforms can increase development time. Features and QA The complexity of your game's features is an essential factor to consider. Developing a game with complex gameplay mechanics or advanced AI will take longer. Extensive testing and debugging will also increase development time. All in all, developing a game in Unreal varies based on multiple factors. It's a complex and time-consuming process that demands a skilled and dedicated team. Our game art development approach collaborates closely with clients to meet their expectations. We use the latest tools and technologies, including Unreal Engine, to create immersive gaming experiences that stand out in the market. Our team is committed to providing services that exceed your expectations and deliver outstanding results. At Whimsy Games, we provide cutting-edge game development services for Unreal projects. Our team of experts is dedicated to helping bring your vision to life and make your game a masterpiece. Contact us today to discover how we can assist you in taking advantage of Unreal Engine for your game development project.
The cost of developing an Unreal Engine game can vary based on complexity and team expertise. Here are key cost estimation points: Project Size and Scope Project complexity and team size are critical factors determining game development expenses. The hourly rate of experienced Unreal Engine development teams varies based on expertise and services. Game Design Factors such as testing, sound and music, marketing, and game elements must also be considered. These elements can impact the development cost and require resource allocation. Art and Sound If you plan to develop your game for multiple platforms, such as PC, mobile, and consoles, you must allocate additional resources to ensure smooth performance. Testing is critical, but it can add to your budget. You will need to allocate resources for both QA and beta testing. Developing an Unreal Engine game can cost anywhere from $20,000 to over $500,000, depending on the project's scope and the development team's expertise. Every aspect is crucial, and allocating resources to promote the game can increase its visibility and generate more sales. Additionally, the more advanced and realistic the game design, the higher the cost. For example, a realistic simulation game that requires advanced AI, physics, and graphics will be more expensive than a 2D puzzle game.