NFT Memes Marketplace Development
Whimsy Games is a professional team that will assist you in developing an NFT meme platform where you can share and trade funny artwork. We'll work with you to make it stand out with custom features and trendy designs, and we'll make sure it runs smoothly. If you want to bring your creative NFT project to life, contact our team!
Get in Touch
portfolio
75

professionals

creating top-notch games

7

years

in the game industry

15

games

released

99

clients

trust our expertise
About Services
Memes are amusing and memorable. They immediately capture the attention of thousands of people and quickly spread throughout the Internet. A meme online marketplace must be memorable in order to attract a large number of potential users while also being simple to use and dependable. Whimsy Games will assist you in creating a visually appealing, secure, and decentralized marketplace with easy navigation and payment options.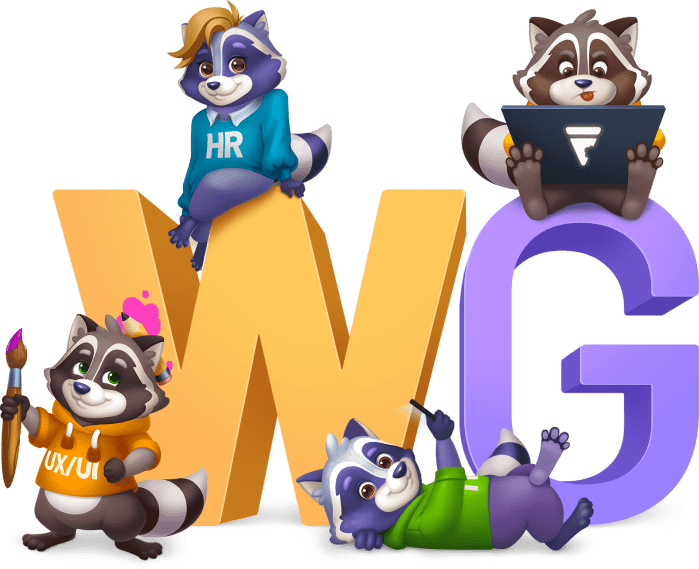 We Offer:

NFT memes marketplace development
Our team will work with you to create an NFT meme marketplace from the ground up. We will take into account all of your preferences and business requirements to make it look and function exactly as you imagined. Even if you don't have any ideas for the design or UI/UX elements, we will make some relevant suggestions.

Whitelabel NFT memes solutions
If you don't have a collection of NFT memes to trade, we can make one for you. You will receive full ownership of this artwork and will be able to freely upload it to your new marketplace.

Marketplace support and maintenance
When we're ready to launch your new marketplace, we'll make sure everything goes smoothly. And to ensure that your platform continues to function properly, we will provide appropriate support and maintenance services. On request, we will fix bugs and release necessary updates.

Wallet setup
We'll set up various wallet options with cryptocurrencies of your choice to ensure users are comfortable with payment methods on your platform, allowing you to make your marketplace exclusive or open-access.
Features
Advanced development tools

To ensure efficiency and high performance, our team will create an NFT meme marketplace using cutting-edge tools and powerful hardware.

Convenient UI/UX designs

We'll take care of the UI/UX design and add elements that will improve customer experience and satisfaction with the platform to make your NFT marketplace for memes reliable, convenient, and slick.

Timely project completion

Our developers are highly skilled and understand the importance of meeting deadlines, especially when a large release is planned. As a result, we guarantee on-time task completion and project updates.

Custom add-ons

We understand that a successful meme in the NFT marketplace must stand out, and we know how to create one. We'll create custom add-ons based on your needs and preferences to make your platform even more comfortable and user-friendly.
Genres We Сreate
Marketplace for meme collectibles
Video meme digital marketplace
Niche meme platform
Open-access meme platform
How We Work
Setup

First, we'll schedule an introductory meeting to go over the major requirements and agree on the team, deadlines, and terms of cooperation.

Prototyping

We begin prototyping the platform as soon as we receive all of the necessary information. For each page your potential users will see, we work on the designs, add UI/UX elements, and create mockups.

Development

Once the first prototype has been approved, we will polish it and add the missing details, such as payment and checkout options, registration fields, search filters, and the security system.

Quality assurance

We'll test your meme marketplace before release to see how well it performs under different loads, whether data security is flawless, and how the page works and looks.

Marketplace launch

We will launch the platform once we have completed the QA. We'll make certain that it works properly from the start.

Post-release support

We want to make sure your marketplace runs smoothly after a while, which is why we offer support services even after the main part of the project is completed.
Why US
01

To ensure timely and effective project completion, high quality, and proper reporting, we primarily hire middle and senior-level specialists.

02

We are involved in all stages of development, from concept to post-release support.

03

Among our core values are transparency and open communication.

04

We always provide detailed and honest project updates and never charge any additional or hidden fees.

05

We recognize that an NFT platform must be as secure as possible.

06

To meet the highest data security standards, we use the most recent advancements in security technologies.
Frequently Asked Questions
A meme A NFT marketplace is a platform for buying, selling, or trading NFTs that represent a specific meme, which is typically a funny image or video that goes viral. This is a fantastic opportunity to monetize your artwork and build a platform where you and other creators can share your comic art and profit.
If you are a creative person with friends who are obsessed with memes and the latest trends, creating your own images and turning them into NFTs will give you full ownership rights to them. You'll also have the opportunity to earn more money from the images or funny videos you create. Memes are appealing, and many people would appreciate having some fun, one-of-a-kind content in their collection. So it's also a form of entertainment for those who enjoy collecting memes, as well as a way to own something they enjoy.
If you created a single meme or an entire collection and believe it is good enough to be an NFT, you can sign up for a marketplace and upload your most recent works there. If you don't have any NFTs yet but have a lot of ideas, there are a lot of legitimate NFT generators you can use to start building your collection. When you're finished, choose your favorite platforms to share your artwork on.
You can publicize your meme on a variety of dedicated platforms or on social media. However, if you want to monetize your artwork, you should create an NFT. It's not a difficult process, and you can get started right away with dedicated software or online services. This will be an excellent opportunity to increase your profits while also demonstrating your abilities to a larger audience.
If you've ever built a digital marketplace, you know how time-consuming it is. You must create a mockup, integrate payment and checkout options, work on web design, and upload at least some NFTs for others to buy or trade. You can, however, outsource marketplace development tasks if you lack experience and do not have a professional development team. You will be able to delegate development to an external team while focusing on other tasks in this case.