Virtual Reality (VR) App Development
At Whimsy Games, we're really passionate about software development and 3D modeling. Our main aim is to create excellent Virtual Reality (VR) experiences that immerse you in a new world. Our virtual reality apps are super popular and loved by many, and we're constantly working hard to make them even better! 
Get in Touch!
portfolio
75

professionals

creating top-notch games

7

years

in the game industry

15

games

released

99

clients

trust our expertise
Join the World of VR to Change Everything!
When we start working together, we want you to feel confident in your investment. That's why we conduct a thorough feasibility study and offer a free project estimation to ensure a profitable return. We also provide technical product management consulting services to minimize the risk of financial losses. Our team of VR app developers are experts in both enterprise and consumer-level applications and have already created successful products.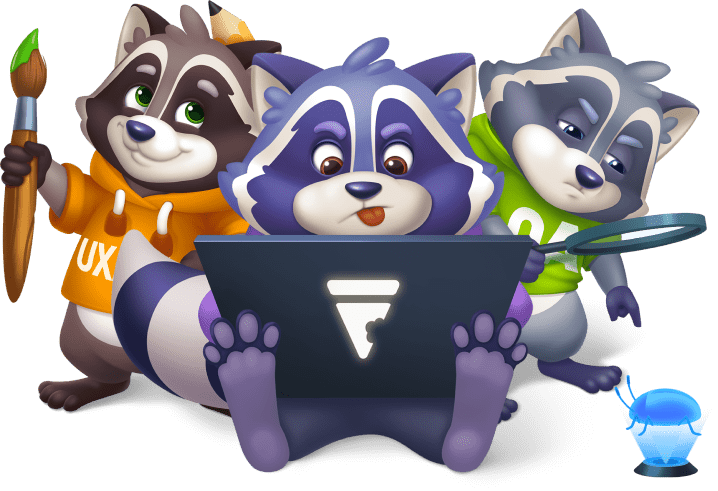 Web 3.0
The future of the internet, known as Web 3.0, is going to have VR, artificial intelligence, and machine learning, which will make browsing more fun and efficient. This new technology will understand what you need and give you a more personalized experience.

Unreal Engine
If you want to make a stunning VR experience for showcasing your product, Unreal Engine is the ideal solution. It offers numerous free templates and samples, as well as an extensive asset library, making it easy to get started.

Unity
Whether you're just starting out or already a pro, Unity is a fantastic platform to create VR content. It's easy to use with its visual scripting, making it simple to build 3D environments and add interactive elements like audio, video, and animations. Your VR experiences will truly come to life!

VR Kits
VR kit is basically a headset that you wear to experience 3D content. The idea is to create a virtual world that feels so real that you forget you're wearing a headset! One of the key challenges is reducing latency, so that the images and movements match up perfectly with your head movements.
VR Industries
Healthcare and psychological therapy

VR in surgery simulations can help doctors and surgeons practice complex procedures in a risk-free environment. Also, VR therapy can be used to treat a range of psychological disorders, such as anxiety, PTSD, and depression.

Manufacturing

With VR, designers and engineers can create virtual prototypes that are extremely accurate and detailed. VR also offers a versatile platform for training factory workers on complex machinery and procedures.

Education

VR allows students to gain first-hand experience in a virtual environment that is safe, engaging, and accessible. And researchers can use it to simulate real-world scenarios and collect data from multiple points of view.

Transportation

VR technology has the potential to revolutionize navigation and mapping systems, providing real-time information on traffic and road conditions. VR driving and flight simulators can also be used for training to handle real-world situations.

Entertainment

Virtual tours and virtual art installations can take viewers to places they may never have the opportunity to visit in real life, providing immersive experiences that are engaging and educational.

Retail

VR showrooms allow customers to explore and experience products in a way that is engaging and interactive, with the potential to increase sales. VR also offers a versatile training platform for retail employees to boost their sales.

Advertising

Gamified ads use VR to create immersive experiences that engage viewers and encourage them to interact with the ad. And virtual events also have the potential to provide immersive experiences that mimic the real-world experience.

Real estate

VR is being used in the real estate industry for virtual tours, which offer viewers an immersive experience of a property without the need to physically visit. This approach can help save time and resources for both buyers and sellers and provide a more accurate representation of a property.
Projects We Сreate
VR RC Racing
Fishing
Bowling
Pool
Poker
Shooting gallery
Our usual VR application development process consists of five steps:
Understanding the VR Ecosystem

The first step is to understand the VR ecosystem, including the types of headsets and platforms available, the types of sensors and controllers, and the hardware and software requirements.

Setting Development Goals

The next step is to establish clear development goals for the VR application, including what the user experience should be, what features the application should have, and who the target audience is.

Designing the User Interface

The third step is to design the user interface for the VR application, which can be done using VR development tools such as Unity or Unreal Engine. The user interface should be designed with the VR headset and controllers in mind, and it should be intuitive and engaging.

Developing the Application

The fourth step is to develop the VR application, which involves writing code and creating the assets necessary for the application. This can be done using programming languages like C# or C++, and tools such as Unity or Unreal Engine.

Testing and Releasing the Application

The final step is to test the application to ensure it works as intended, and to make any necessary changes or improvements. Once the application is ready, it can be released to the public.
We Offer Top-Notch VR Development Services
01

We Create Custom VR Software

02

We Enhance Your Existing VR Software

03

We Integrate VR into Your Current Software

04

We Provide Quality VR App Testing

05

We Ensure Your VR Software Stands Out in the Market
Frequently Asked Questions
When using a headset, clients are able to fully engage with and explore a virtual environment created by VR technology. This allows for a highly immersive experience.
VR and PC VR?A standalone VR headset operates independently, while a PC VR headset necessitates a continuous connection to a nearby computer.
Absolutely! A lot of our clients gain valuable insights into customer behavior, which ultimately leads to an enhanced customer experience.
We create with many platforms. For example, we have an expert knowledge of Unreal Engine, Unity, and all VR frameworks and headsets, such as Oculus Rift, HTC Vive, Samsung Gear, Sony Playstation VR, Google Cardboard, Daydream View, and even Apple Vision Pro.