How to Create Your Own NFT: 5 Simple Steps
It's hard to find a person who has never heard a word NFT. Is it an overhyped pyramid scheme that no one understands, or is NFT our future? This question is always raised when people want to begin their journey in the NFT world and don't know how to create an NFT.
Especially, when you see the price of the most expensive NFT meme auctioned off — $573,000. Sounds fantastic, isn't it? If the thought with a question, "How do you make an NFT and sell it?" has already popped up in your mind, then keep reading.
In this article, you'll find out about the main NFT nuances.
We'll explain the meaning of NFT;
We'll shed light on the process of NFT creation;
Also, we'll give some hints on how to sell and make a profit from NFT.
Ready to start?
NFTs Explained
Put simply, the acronym NFT stands for a non-fungible token. It's an intangible asset on the blockchain that pinpoints one-of-a-kind digital items and stores data about them on a digital ledger. Artworks, photos, tweets, music, in-game collectibles, and other objects can become NFTs that exist in some form in different mediums.
For instance, Mike Winkelmann, a veteran digital artist and graphic designer also known as Beeple, created a digital artwork collage sold for $69.3 million. Beeple's NFT, The First 5,000 Days, was auctioned at Christie's and is the most expensive NFT ever.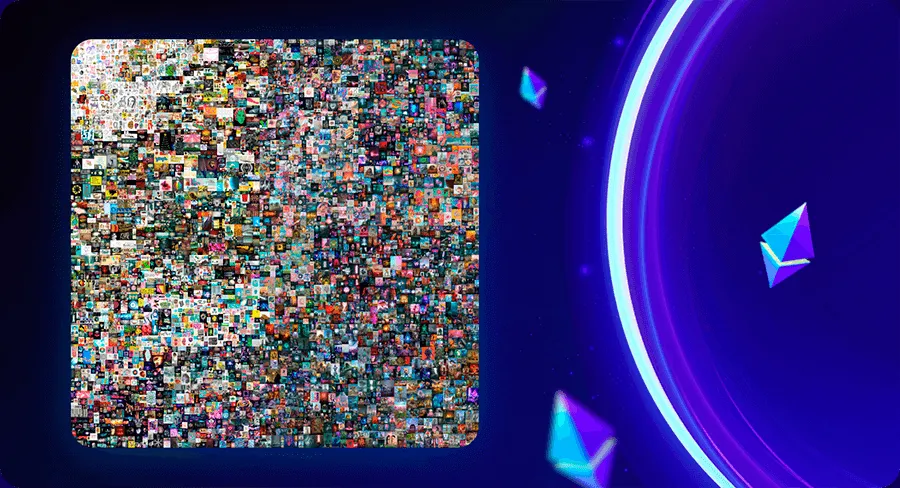 $2.9 million is the price of another NFT that made lots of hype. It's not ranked in the top of the most expensive NFTs, but it's the first tweet auctioned at this price. The tweet was posted on 21 March 2006 by Jack Dorsey, stating, "just setting up my twttr." It remains on the Twitter platform. However, now it belongs to the bidder, not its creator.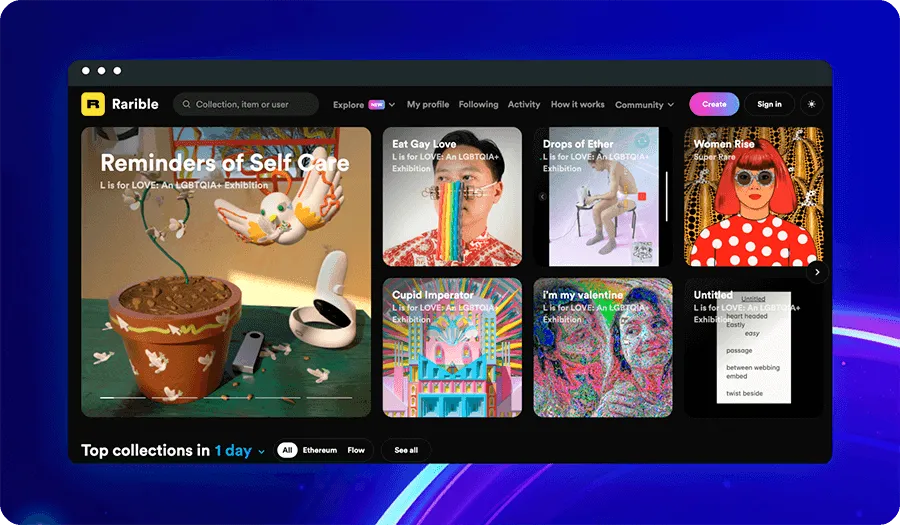 If you think that only visual non-fungible tokens can be highly profitable, you're wrong. DΞSTINATION HΞXAGONIA is the first full-length concert NFT, pricing $1.26 million. It was sold in April 2021 to an undisclosed buyer. The NFT depicts astronauts, spacecraft, and numerous sci-fi elements and represents a full-length audiovisual experience, which was auctioned off by Dutch digital artist Don Diablo.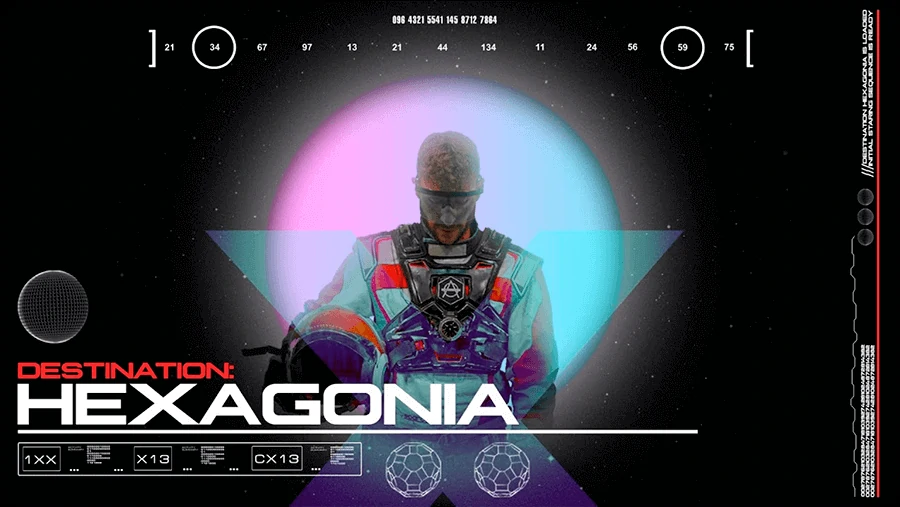 Each NFT holds a set of limited and unique properties so that no one can edit, change, delete, or manipulate it. NFTs have an assigned ID or metadata with information about their creators, date of origin, mediums, and owners, which can be used when verifying the ownership and authenticity of the non-fungible tokens.
Nonetheless, you may wonder how to create your own NFT? Let's dig deeper to learn more about it.
Process of Creating NFT
When you want to make your digital art an NFT, you have to mint it. It's the first thing you need to know about how to create a non-fungible token. NFT minting process resembles metal coin production when every coin gets its attribution and after that can be used in money operations.
Minting NFT means generating a unique asset that becomes a part of the blockchain – a public ledger with tamper-proof and unchangeable policy. Once you've rendered a digital artwork as an NFT, you can then digitally track, trade, or auction it off in the market.
But first thing first, you have to create an e-wallet.
Set Up a Software Wallet
To sell and purchase NFTs, you'll need a noncustodial wallet like MetaMask. It's the most convenient cryptocurrency wallet that allows you to retain ownership and control private keys.
You can install a  MetaMask application or browser extension. Also, you can find an installer of the desktop version on the site.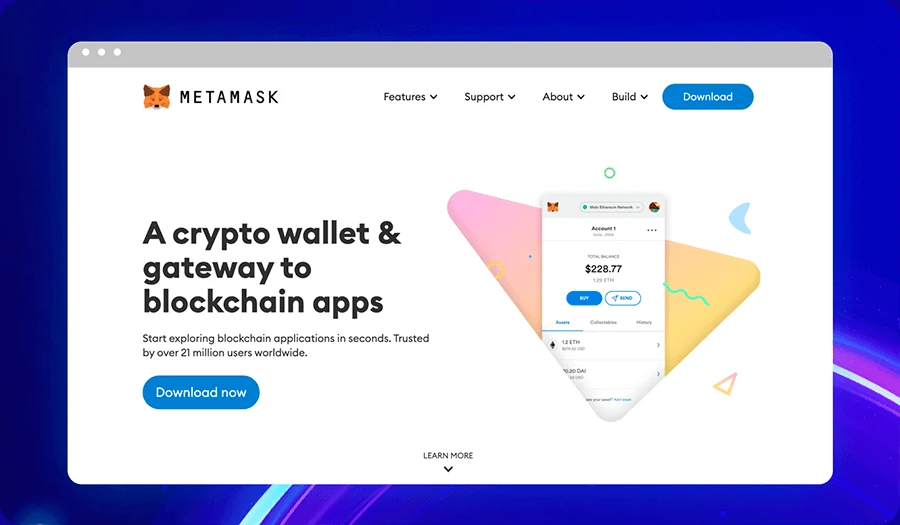 Fill out the sign-up information, make your password, and agree to terms and conditions. You'll also be asked to confirm the creation of a seed phrase — a list of words aimed at storing blockchain information.
Choose the NFT Marketplace
Ethereum is an ecosystem that houses some popular marketplaces where you can sell or buy NFTs. Ethereum was a pioneer in NFT, but now the platform has some downsides. It's outdated, charges high fees, consumes a lot of energy for mining Ethereum and Bitcoin, and can barely adapt to a constantly growing volume of the NFT works.  But don't worry, there are some other alternatives — marketplaces you should look at to know how to generate an NFT.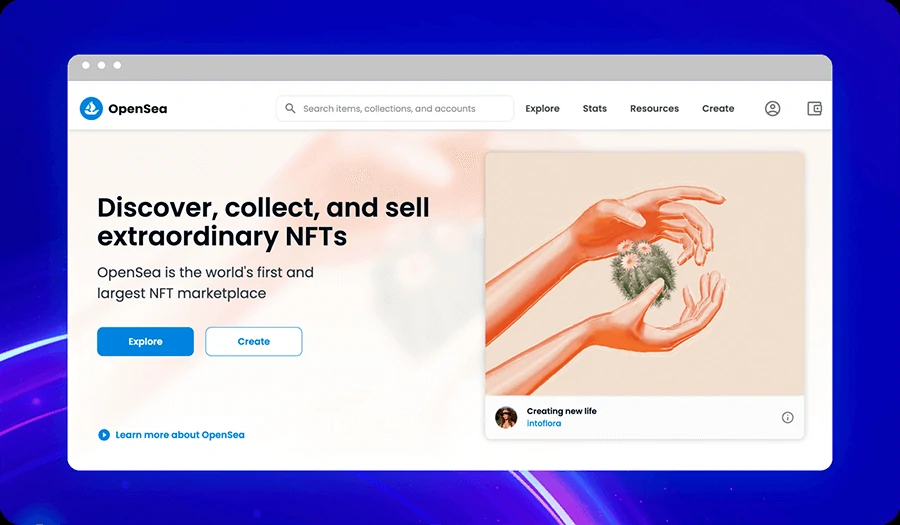 OpenSea is the largest peer-to-peer marketplace of NFT transactions, with everything for everyone. Recently, its sale volume has crossed $10 billion and makes it the most popular platform. In addition, OpenSea holds an NFT collector community and allows minting NFTs for free. The main challenge for you, as an NFT artist, is a highly competitive and oversaturated ecosystem because of the lack of the selection process. Since everyone can present their often low-valued NFTs, you have to work hard and deliver a real value to make the public notice your digital artworks.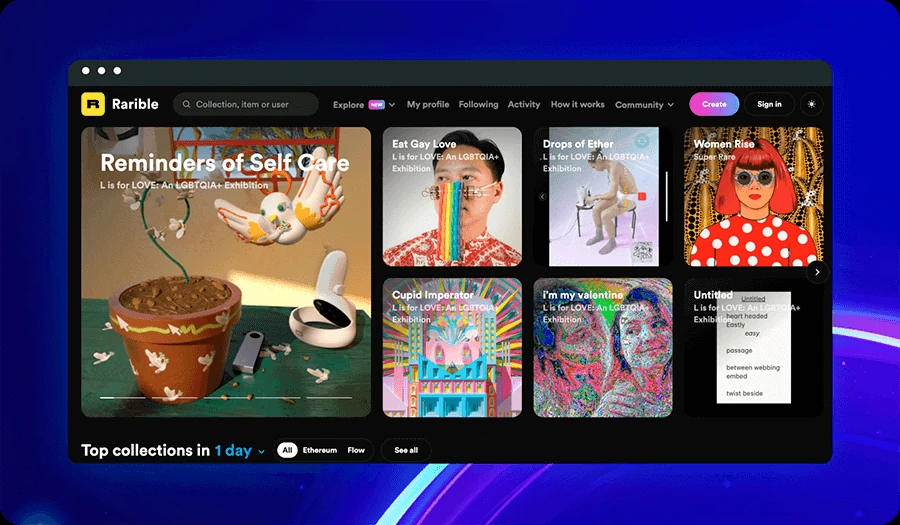 Rarible is a simple platform with an attractive interface. It allows users to mint NFTs without coding background. It's possible to mint singles or multiples and add properties. Besides, you can choose sales with fixed prices or set your commission. The main disadvantage of this marketplace is the fact that Rarible is a highly competitive place. You cannot generate your own NFTs, but only release them as a part of a generic collection.
Foundation is a platform with high-quality art projects and a rigorous application system. The community applies a curation model to invite new users. It's also possible to create on Foundation due to the Community Upvote. Every month, fifty unknown, highly voted artists receive utterly verified accounts. This system allows opting for only the best works and cooperating with gifted creators.
Upload File and Description
Once you've got a cryptocurrency wallet, you can create your NFT collection. You have to upload a file with digital artwork and provide a detailed description of it. You can choose a payment and proceed with a selling method.
Set up the Auction
As you are aware of how to make an NFT token, you can start trading it. You can choose either an auction or a fixed price. Besides, you can receive royalties from the first and next sales.
How to Sell NFT?
As now you know how to generate an NFT, it's time to start monetizing. Go to your profile and select an NFT you intend to sell. Then you'll be moved to a pricing page where you have to choose the conditions of the sale. Before we continue discovering auctions and showcase how to make NFT crypto hassle-free, let's pay attention to the fee.
What Is a Gas Fee?
A gas fee is the amount of money that users are charged for any transaction within the Ethereum network and other marketplaces. The gas fee is paid in the platform's native currency. For example, it's  Ether (ETH) on Ethereum, ether, USD Coin, and Dai on OpenSea, etc.
Intending to have transactions included in the block, you, as other users, have to pay this gas fee to miners on a blockchain protocol. It is a supply and demand system: the more demand, the higher the gas fee.
Thus, your transaction is dependent on miners. They choose trades and include them in the block. So the more you pay for it, the faster and more effectively your transaction will be processed. Additionally, the average gas price goes down if the price of Ethereum increases, and vice versa.
If you want to learn how to make and sell NFT at favorable rates, you can check out the gas fee on Etherscan and Etherum.
Types of Auction
There are three types of auctions where you can sell your NFTs and collectibles.
At a fixed price auction, you can pinpoint a specific price you want to sell your NFT for.
At a timed auction, you select a specific date, time, and period during which buyers can place bids. The timed auction can last either for a day or as long as you wish. Alternatively, you choose a minimum bid so that the system won't accept any bid below this rate.
An unlimited auction allows you to sell an NFT object for an unspecified amount of time. Users can place their bids without limits of the minimum bid. And you, in turn, can reject or accept these bids.
How to Make a Profit with NFTs?
When you already know how to make NFT and sell it, it's time to talk about revenue. As TechAtLast's founder Olawale Daniel stated: "If you are an artist and still don't use non-fungible tokens, you are potentially missing millions of dollars."
There are four lucrative ways of making money with NFTs.
Digital Art
NFT artworks are the most popular and valuable in terms of profitability. According to Statista, about 22.8 thousand NFTs were sold in the art segment during the last 30 days as of November 15, 2021. NFT is a unique option for content creators, be they digital artists or meme creators. You can generate revenue from the auction or royalties (when a meme will circulate in the digital space).
NFT Trading
NFT trading is about buying and selling NFTs. You can find the latter on dedicated marketplaces and applications.  We've already overviewed the most popular marketplaces where you can start NFT trading. Plus, don't forget about a digital wallet so that you can make cryptocurrency transactions.  The main perk that gives this form of NFT monetization is a transparent ecosystem, improved artist royalties, and protected copyright.
Licensed Collectibles
Sports cards are the most popular collectibles. Primarily, only licensed footballer cards were traded. But now, you can find a collection of NFT cards belonging to the National Basketball Association(NBA). We may also see how other sports associations follow suit and offer their NFTs.
In fact, not only sports cards are good collectibles. You can turn an object of any physical collection into tokenized assets and sell it. The main perk of licensed collectibles is that they never lose neither their condition nor quality. Besides, you can always securely store them on the blockchain.
NFT games
At least once, every video game fan thought of not only enjoying gameplay but also earning, and raised a question: "How do I create an NFT?"
Game developers offer in-game virtual items as collectibles for trading, purchasing, and selling. Whimsy Games, a vendor for NFT game development, provides multiple lucrative opportunities for monetization and reward. The Whimsy Games team creates games from scratch so that you can project NFT games collectibles in the tiniest details. As an experienced NFT game development company, we know how to create appealing and unique tokens for your game projects and make them sell.
Compared with other NFT items, in-game NFTs are the most interactive and, in the meantime, the hardest to produce. That's why this segment is promising yet not oversaturated. In 2020, the gaming segment reported the highest sales volume of the NFT market.
Non-fungible Reality
NFT is a new, promising reality that will stay here for a long. And now is the best moment for everyone to join this ecosystem and gain profit from it. From our side, we've highlighted the key facts you should know about how to create and sell NFT. From your side, it's time to act.
We, at Whimsy Games, are always standing ready to assist and deliver a top-quality product, especially when it comes to NFT game development services. What do we offer?
Our team can bring your ideas to life and develop a game from scratch.
We improve game metrics and performance.
Our specialists can fulfill narrow-profile tasks for you: animation, 2D/3D art, NFT game development, etc.
We breathe a second life into the old version of the game.
Take a chance to dive into the world of NFT.